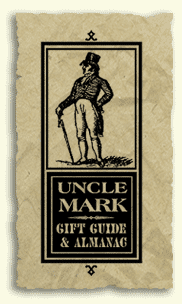 And.... as of press time, there were only 80,107 minutes until Christmas (
via christmas.com
)
So, you should almost have your shopping done, right? HA! Well, this post is for all you folks who have no idea what to get people this year.
Uncle Mark
publishes an annual
Gift Giving Guide
for the idea-less out there. As you may know, I pride myself on knowing about all of the coolest gadgets and tech toys out there and I was pleasantly suprised that Uncle Kraker, I mean Uncle Mark had a LOT of cool things I had never heard of.
A good example is:
"HP Laserjet 1012: I use and recommend this simple, inexpensive, all-around great laser printer.
It's Mac- and Windows-compatible, black-and-white only, and about $100. Done."
Sounds a little like my writing. He
must
be good.